How to check and update the THETA firmware
It is recommended that you always use the latest version of the RICOH THETA firmware.
For instructions on how to check and update the firmware, please refer to the instruction manual at the link below.
Click the name of the model you are using. X / Z1 / V / SC2 / SC / S


Additional update notes when updating the firmware on your computer.
The application icon should look like this.
Once you have downloaded and installed the THETA app, launch the app and follow these instructions.
*Be sure of the following before you begin:
If you are updating the SC2 or V, be sure you are using the cable that was supplied with your SC2 as it has a built in power booster on the cabe.
Be sure that you have a fully charged camera
Updating the firmware:
Start the THETA app on your desktop
Connect your camera to your computer
Select [File] → [Firmware Update] in the menu on the top of your screen.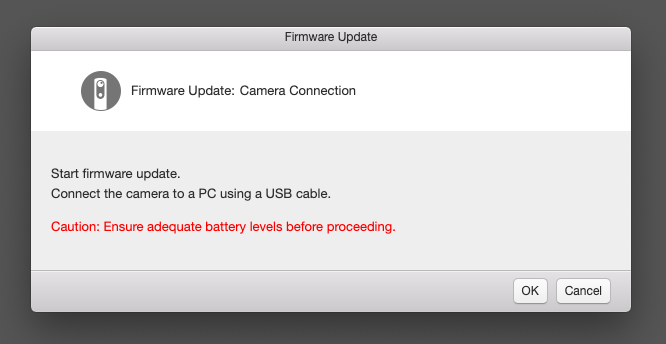 This is also where you can find the current version your camera is currently running.
Select OK
Check the current version and available version, and select OK
Continue to follow the instructions found in the links above for your particular camera.