On September 28, 2021, we launched the Referral Program, which allows customers who have paid RICOH360 Tours subscription to introduce RICOH360 Tours to their friends and colleagues who are interested in our service. Both the referring team (referrer) and the receiving team (referee) can receive a discount on the service fee.
Take advantage of the RICOH360 Tours referral program to earn credits and continue to save on your RICOH360 Tours subscription. You will see the following pop-up when you access your account, or you can select the option in the Management Console.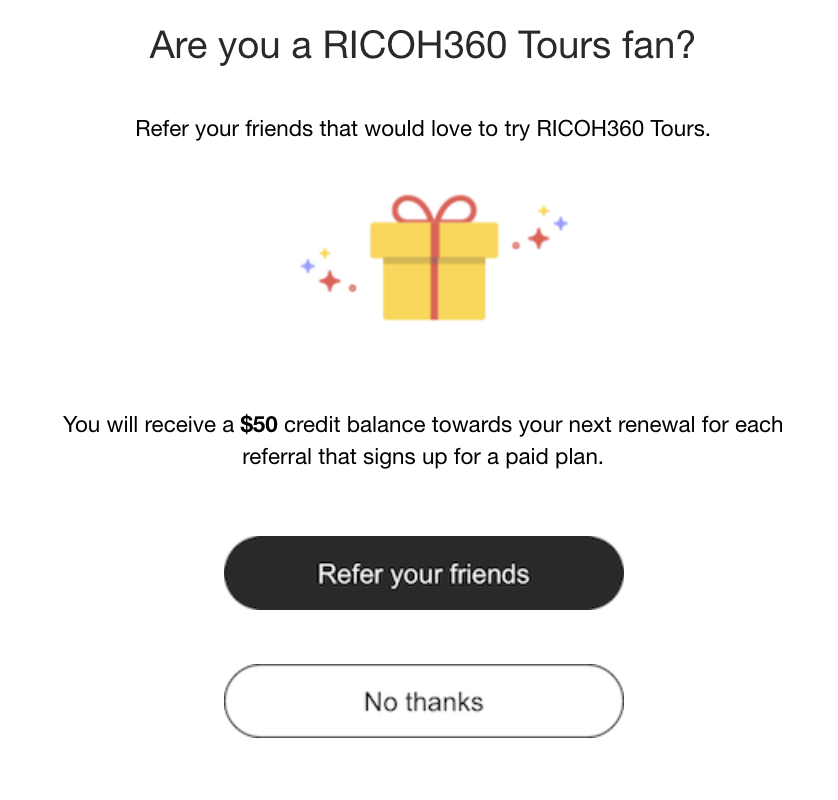 The Referral Program is established when a member of a paid RICOH360 Tours team (referrer) shares a referral link with a new RICOH360 Tours user, the person who receives the referral link creates an account and pays for a subscription.
Once the referral steps are completed, both the referrer and the referee will immediately receive a credit balance.
Any member of the team with a paid subscription can generate a referral link, and there is no limit on the number of credit referrals they receive.
Please review the contents of the referral program in detail for other important notes
https://help.ricoh360.com/hc/articles/4406957297043
For more information about the referral program, please refer to this page.
https://pages.ricoh360.com/tours-referral-program