On December 16, 2021, we updated the layout of the viewer for 360° images for both Mobile Devices and the Embed Tour on a website.
Viewing on Mobile Devices
The floor plan uploaded to the tour can now be displayed.
By tapping on the mark in the lower left corner (above the frame where the number of images/total number of images are displayed), the floor plan will be displayed in a larger size.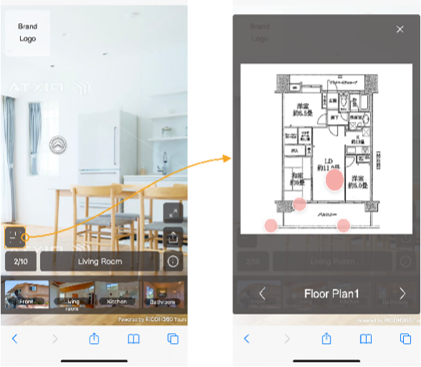 You can also shrink or enlarge the floor plan image by pinching it in or out. You can move the floor plan image by dragging it to a new location after it is enlarged.
When multiple floor plan images are uploaded, you can switch between them by tapping the

and

marks displayed on both sides of the floor plan name.

Viewing embedded tours on a website
The size of the brand logo has been changed when the embed size is 640 x 480 (width x height).
In addition, you can now view the floor plan by clicking on the same icon as on the mobile screen.

Other minor layout changes have been made.
We hope that you will make active use of RICOH360 Tours, which has become even easier to use, and make it useful for your business.