The RICOH360 Tours mobile app will allow you to upload a floor plan and map your 360 Photos to that plan. Your clients will be able to navigate through your tour by clicking on one of the blue dots shown on the floor plan.
You will need to have a floor plan located on your mobile device for use in the RICOH360 Tours app.
Below is an example of what your clients will see when viewing your tour on a desktop.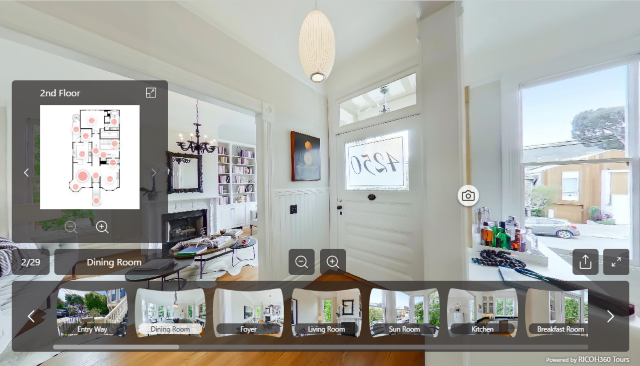 Creating Floor Plan Maps
Make sure you have your floor plan downloaded to your mobile device
Open the RICOH360 Tours app on your mobile device
Select the Tour you would like to add a floor plan to
Select Floor plans
Tap
Select Camera to take a photo of a paper floorplan or Library to upload from your phone's photo library

If they are in your library, select the folder where your image is located
Select the image for your floor plan

Your floor plan will be displayed on your screen (this might take a few seconds as we upload the floor plan to our servers)
Give your floor plan a label and tap DONE
Tap on the floor plan you wish to add labels to
Tap on the pencilin the upper right of your screen
Tap anywhere on the photo to add a label
Select the photo you would like to associate with that room
Tap Done when complete, or continue to tap on your photo and add additional labels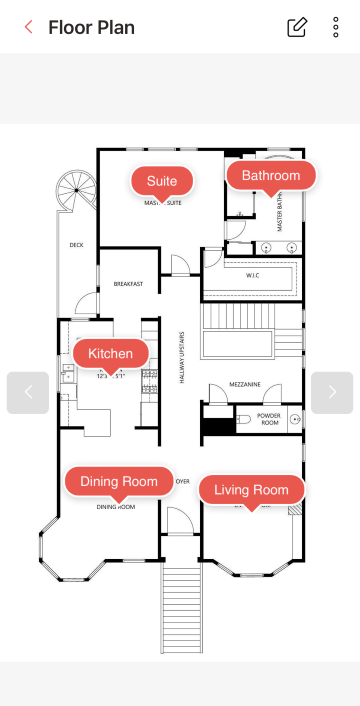 Your floor plan is now ready to be used when sharing the link to your Tour
Deleting Floor Plans
Tap the tour you would like to delete from
Tap Floor plans
Tap on the floor plan you wish to delete
Tap the 3 dots in the upper right corner
Tap Delete
Confirm by tapping DELETE
Deleting Labels
Tap the tour you would like to edit
Tap Floor plans
Tap on the floor plan you wish to edit
Tap on the pencil to edit your floor plan
Tap the X on the label you wish to delete
Tap DONE